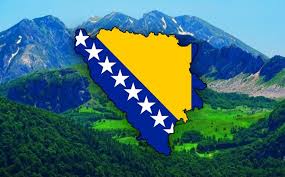 Only recently having suffered the effects of the Balkans war, Bosnia and Herzegovina is a country with a long war history. In the old town, the cobbled streets, mosques and Oriental style shops at the heart the city are a world away from Europe, and when the call-to-prayer starts, one could be forgiven for thinking that they were actually in the Middle East. In the city you can find catholic church, orthodox church, masjids and synagogue, making it a very multi religious city.
The first Bosnian town that we went to was Mostar. The main attraction in this place is Stari Most – the old bridge. Originally built by the Turks in 1566, it was destroyed in 1993, but rebuilt in 2004. The bridge is the highlight of Mostar and is a UNESCO World Heritage Site. The bridge is 21m high and you will frequently see members of the Mostar Diving Club dive off the bridge. We saw a video of how the bridge was bombed during the war and it interrupted supply between the two sides of the city. There were also Ottoman influenced houses, but we didn't go in because of the admission fees. In Mostar it is easy to pay with euros due to many tourists visiting it and shops selling similar souvenirs line the old town.
After Mostar, we drove to Sarajevo, the capital of Bosnia. It was dark when we reached but the street where our hostel was located was bustling with activity. There was a London bus converted into a bar; we had dinner at a Turkish-Bosnian restaurant called 'Galactasaray" (name of a Turkish football club) and we had pancakes for dessert. This shows how international Sarajevo is.
One of the most popular attractions for history buffs in the city is Latin bridge.  On 28 June 1914, the assassination of Archduke of the Austrian Hungarian empire Franz Ferdinand on the bridge sparked the beginning of World War I.  For best views of the city, we climbed up the surrounding hills, and passed by a cemetery of white tombstones commemorating those who died during the recent war, most of them being young people. There was also a tunnel museum which seemed interesting but we didn't have enough time to visit it. The Sarajevo tunnel was built during the Bosnian war, allowing tons of food to enter the city and thousands of wounded citizens and soldiers to be transported out. It was used mainly during the night due to constant shelling and it saved the city during the siege.
A city which survived the longest siege in the history of modern warfare, entirely cut off from the rest of the world, deserves to be called the city of hope. Do visit Bosnia to truly experience firsthand the war history and understand the sufferance of the people. Much of the country has been cleaned up, reconstructed and the streets are safe. There's no problem wandering the streets even late at night.