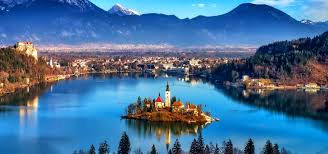 Ljubljana, which roughly translates to 'beloved' in Slovene, may be one of Europe's smallest capital cities (population 280 000), but its rich cultural scene, youthful vibrancy, offbeat hangouts and impressive baroque buildings more than make up for any shortcoming. Ljubljana castle which sits atop a hill offers panoramic views of the city and there was a Halloween party in the castle on 31 oct. The city has many interesting statues and a flower market in the morning. There were some artsy quarters such as one with shoes hanging along a clothes line, apparently an Erasmus tradition done by the students at the end of their semester. I guess I could not experience much of the city because most of the shops were closed on Thursday and Friday when I was there, due to public holidays. Nevertheless, I had fun with my couchsurfing host and his friends. Ljubljana being a student town, there was no lack of student parties with the Erasmus or Slovenian students themselves. I had two wonderful nights here. 
Lying between the alps and the Adriatic Sea, Slovenia has beautiful lake Bled which hosted the Winter Olympics and one can go skiing in the Julian alps during winter too. Lake Bled is very picturesque with a 1000 year old castle on a cliff that overlooks an island on the lake. Lake Bled is only an half and a half away from Ljubljana and on the day that I visited it, there was discount for the train ticket because it was a public holiday, probably to encourage the locals to make use of the train network to escape to the countryside for the weekend. I met 3 Spanish girls who were on the same walking your in Split, Croatia and traveled together for the day. It was so coincidental that we met in Croatia and now again in Bled. It was a fun-filled day traveling with them, we walked along the whole lake and took many pictures. Then we wanted to explore another nearby lake but the train to take us there didn't arrive, so we ended up sipping hot chocolate/coffee in a bar and playing card games. It was a nice way to while away the afternoon while waiting for the return train back to Ljubljana.
Slovenia is a safe, clean and modern country with the younger generation proficient in English. One should visit Slovenia to get a respite from the touristy places in Italy, Austria or Croatia which tourists often frequent and bypass Slovenia. I didn't have time to visit the caves in Slovenia but according to my Spanish friends, they are worth a visit.