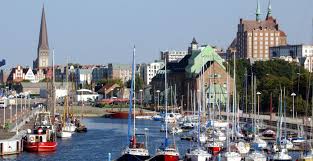 Rostock is not a place on the tourist map for those visiting Germany, but thanks to my penpal who stays there, I decided to give her a visit and see what this city in northern Germany has got to offer. 
I took an 8h45min 'express' train from Munich to Rostock, stopping by many cities such as nurnberg, Halle and Berlin before finally reaching my destination. As I did not have any wifi nor mobile phone reception, I wasn't sure if my penpal (Kathrin) received my email with my arrival time in Rostock. I got off the train without seeing anyone familiar. We had exchanged photos before so I know how she looks like. I went to the information counter to ask for directions to her place and suddenly she appeared and said hi to me! I was so relieved to see her in person. She drove me to her place where I stayed for the night. Kathrin had a kitty which was scared of me and ran into hiding whenever I approached it.
The next day, it was a beautiful day with clear skies and sunny weather. We went to the city centre and explored it on foot, we climbed up to the tallest church in the area to had a good view of the city. There was also a beautiful marina with many yachts berthed.
Since Rostock is located near the Baltic Sea, we took the tram and bus to the next town of Warnemünde where there were many ferries to the nearby islands. From here, one can also take a 2h ferry to Copenhagen! In summer, when the cruise ships stop at this seaside town, it is packed with tourists.
We had lunch from a seafood shack which sold fresh fish in buns. I had a herring which tasted sour and went well with onions. We walked along the coast and the sand was so fine and soft like powder. I didn't know Germany had such nice beaches until I visited Rostock. There were many people flying kite or just having a picnic by the beach.
Then we drove to Bad Doberan which had a famous abbey 'münster'. We also had a cup of tea and ice cream in a cafe where I made full use of the free 30min of wifi. It felt so good to be connected to the Internet and to inform my loved ones that I'm fine. In Bad Doberan, there was also a steam train which tourists could take to explore the town. Kathrin drove me to the train station after that, where I will make my way to cologne. So this ended our enjoyable day together, I'm so happy to have known her as a penpal and to meet her in person.