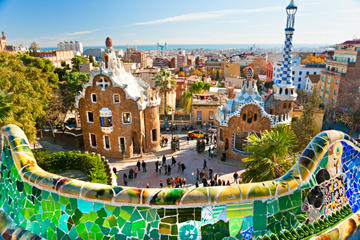 Los tres días en Barcelona pasaron muy rápido. Viví en un albergue muy maravilloso y conoce la gente simpática. Ahora yo sé cocinar la paella y una comida de Israel gracias a mis nuevos amigos allá. Aunque los atractivos en Barcelona son demasiado caros paro mi (24€ para ver un estadio, 13€ para ver una iglesia que no es completa, 10€ por un museo -se trata de un robo!), yo aprecio la arquitectura de Gaudí mostrando en muchos edificios. Estoy muy cansado por que salí por dos noches de fiesta, era muy loco y me ha gustado mucho! Mi primera vez en España y necesito visitar las otras ciudades. La próxima semana: Berlín yo vengo!
Barcelona is a really cool city with an awesome night life, maybe because I stayed in a hostel and they know internationals like pub crawls so they have one everyday. Barcelona is in Catalonia region that wants to breakaway from Spain and achieve its own independence. Catalan, as well as espanol is spoken here. Many barcelones hung Catalonia flags instead of Spanish flags outside their house. I enjoyed walking down the streets admiring the architecture of Gaudi, he's a brilliant architect indeed. However, I hated it that all the attractions in this city are so expensive and for a student like me on a tight budget, I could not afford to enter la sagrada familia, fcb stadium, park guell etc. I think looking at my friend's pictures or those on the Internet would suffice. 
I was living in Gracia neighbourhood which is pretty cool. It feels less touristy than Las Ramblas and not so crowded, something which I liked. It is a small hostel located in the middle of a local quarter and quite accessible to downtown Barcelona. I loved the Barceloneta beach where many people were surfing or just taking a walk along the beach. I went up to Montjuic which offered nice views of the city and the port of Barcelona. Park Guell was very interesting as well, located near Gracia neighbourhood and it has nice monuments done by Gaudi, but you needed to pay to enter to view the monuments which I disliked. I just stood outside and took some photos, the design of the house reminded me of the one in the story of Hansel and Gretel. Many locals were jogging in the park, some with their dogs as well. Since the park was located on the top of a hill, I went to the top and had the whole view of bcn. 
On Sunday, I joined the long queue of people going to Picasso museum because it was free entry for every first Sunday of the month. For me, I feel it is not worth it to pay to enter this museum, although Picasso is a famous artist, but perhaps I didn't quite appreciate his artworks nor do I know how to analyze his strokes. Only those brightly coloured paintings attracted me, and some paintings had blurred faces which I didn't understand why. I also visited Barcelona stadium, the largest in Europe and home to FC Barcelona (mas que un club). Since I'm not really a football fan, I didn't want to pay 24€ to enter the stadium and museum. I guess when there's a live match the atmosphere would be much different. 
 In Barcelona, I also learnt how to cook traditional Spanish paella, sangria and an Israeli dish thanks to living in a hip hostel. I think cooking brings everyone together and we can learn about other countries' food culture. I didn't know that paella was so easy to make and now that I'm back in France, I'll try to make one as well. bcn public transport is easy to get around and the carnet of 10 tickets is the best option because each ride only costs about 1€.
Casa Batlo
the most famous and iconic landmark in Barcelona – la Sagrada Familia
chilling at Barceloneta beach
panoramic view of the city from the top of Montjuic
Park Guell, the entrance fee puts me off because parks are supposed to be public spaces!
Cathedral Se
FC Barcelona
the tranquil neighbourhood of Gracia where my hostel was located
Tips 
Wedged on a corner of Passeig de Born is another free tapas bonus, Bar No Sé. Sunday evenings are the time to visit, when you can enjoy a free buffet of salads, pasta, pinchos and savoury crepes, accompanied by some of El Born's sweetest cocktails.
If out in Eixample, check out Bar Atrapatapa, at 77 Comte d'Urgell (just a few blocks from Urgell Metro station on line 1). Here you can get a beer of glass of cava plus a tasty tapa from a mouth-watering selection showcased along the bar for less than 2 Euros.