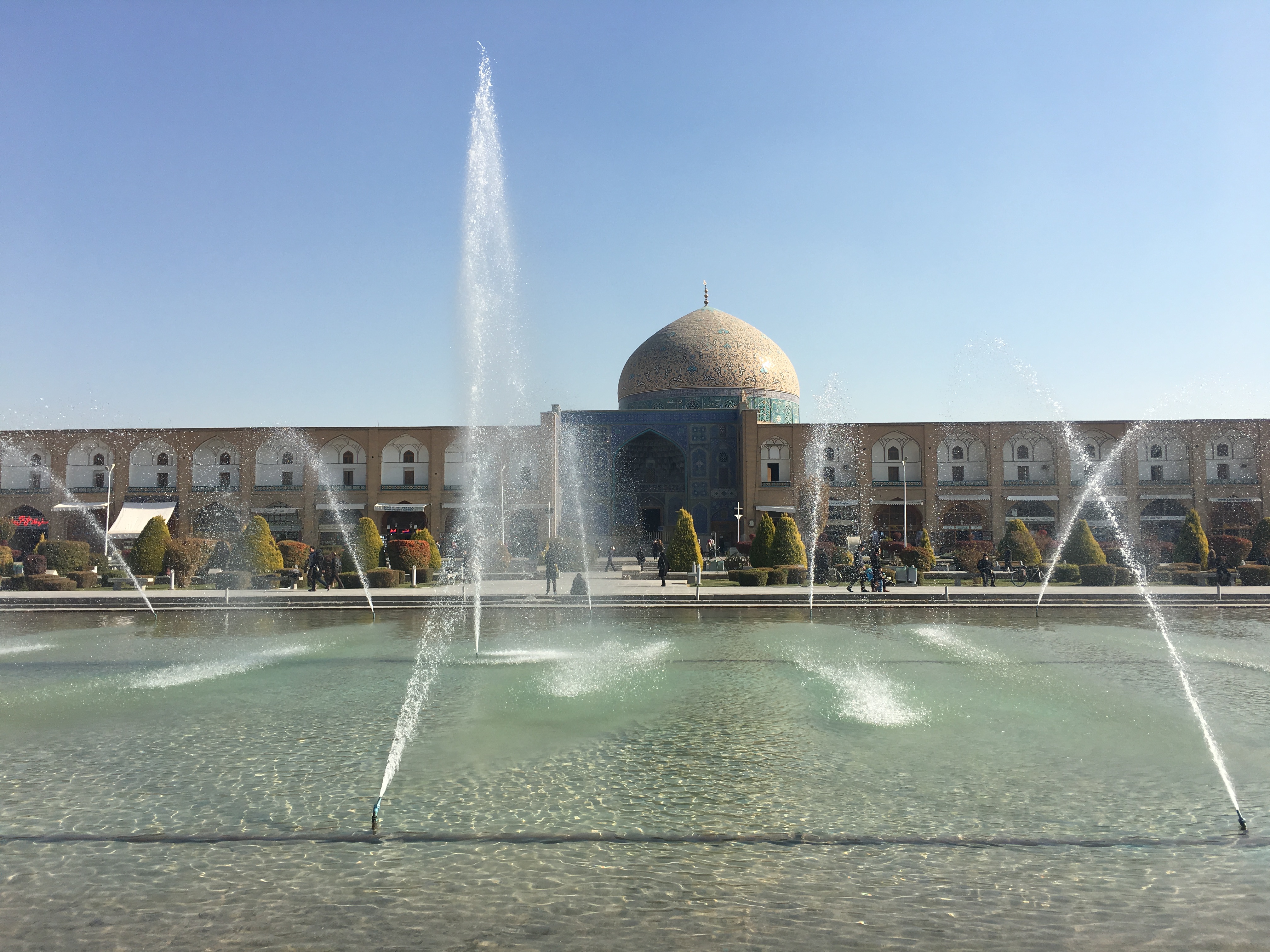 Written by Donovan January 7, 2018
Category: Asia, Iran
Tags: adventure, backpacker, backpacking, Esfahan, Iran, Isfahan, travel, traveler, wanderlust
Comments
Esfahan is a city in central Iran, south of Tehran and is the capital of Esfahan Province. The Persians call it "Nesf-e-Jahan", meaning "Half The World". Due to its beautiful hand-painted tiling and magnificent public square, it is considered to be one of the most beautiful cities in the world. An ancient town and capital of Persia from 1598 to 1722, it was long noted for its fine carpets and silver filigree. Today, textile and steel mills take their place. Its architecture, tree-lined boulevards and relaxed pace make it one of the highlights of Iran.
My favourite place in Esfahan is Naqsh-e Jahan Square. It is a square situated at the center of the city. Constructed between 1598 and 1629, it is now an important historical site, and one of UNESCO's World Heritage Sites. It is 160 metres (520 ft) wide by 560 metres (1,840 ft) long. The square is surrounded by buildings from the Safavid era. The Shah Mosque is situated on the south side of this square. On the west side is the Ali Qapu Palace. Sheikh Lotf Allah Mosque is situated on the eastern side of this square and at the northern side Keisaria gate opens into the Isfahan Grand Bazaar. With beautiful fountains in the middle and sunny weather on an autumn day, it attracts many people to just sit around at the benches or picnic on the grass patch. At night, it gets chilly so most people would walk inside the bazaar where they are sheltered from the wind.
There are two mosques in the vicinity of Naqsh-e-Jahan square and each mosque has beautiful turquoise tiles symbolic with Islamic architecture.
Just outside Naqsh-e-Jahan square lies Chehel Sotun palace.
Esfahan is a city of bridges. There are several bridges which serve as crossings over the Zayanderud river. Some of the bridges are for pedestrians only while others are for cars. Unfortunately, due to a water crisis, the river was dried up when we visited. So people were seen walking on the river bed which had rocks exposed. These bridges appear more magnificent at night due to the lighting.
Besides Persians, there is also a sizeable Armenian community in Iran. They fled Armenia during the Armenian genocide to seek refuge in Iran. Now they are Iranians by nationality but they continue to uphold their Armenian traditions and also their religion which is Christianity. Walking around the Julfa neighbourhood in Esfahan exposed some interested facets of their lives.
New Julfa is still an Armenian-populated area with an Armenian school and sixteen churches, including Surp Amenaprgitch Vank, which is a Unesco World Heritage site, and undoubtebly one of the most beautiful churches in Iran.
During our time in Esfahan, we were lucky enough to be invited to a baby's first tooth party. The baby, whose name is Rasa, had just grown his first tooth and our host threw a party for him at the secondary mansion. It was an enormous house with a private swimming pool located on the outskirts of the city, so making lots of noise would not disturb any of the neighbours. We also had a chance to stir a huge cauldron of almond paste which was being prepared for a religious ceremony.
Overall, I enjoyed my 3 days in Esfahan as I got to meet many Iranians and chat with them about their perception of life in Iran and the young people shared with me their aspirations.
Lastly, here is The Central post office where I sent out many postcards to my friends. I was transferred from counter to counter as I wanted to buy philately stamps, to send a postcard and a letter. Sending a letter in an envelope cost $6.25, but my friend wanted it so I did it on his behalf. Sending a postcard only costs $0.75. Such a huge difference!