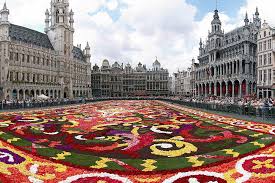 Belgium may be much smaller than France, but it is an interesting country that has a long history of being at the crossroads of conflicts such as the world wars, with several former battlegrounds in the country. 
Brussels is the capital of Europe as claimed because it is home to the EU parliament and many international immigrants. It brings a lot of people from all over the world, working for the EU. Brussels boast interesting architecture and museums, a well-preserved medieval city and an energetic lifestyle. Mannekin Pis souvenirs are ubiquitous, thanks to this little boy who saved the city by peeing to extinguish the fire. The actual statue used to commemorate him was stolen, and the replica often undergoes a change of costume regularly. When I visited, he had an FBI cap that covered his face so it couldn't be seen. In 2007 he did not pee for one day, with a sign warning for prostate cancer.
Fries, mussels, chocolates, waffles and beer are typical Belgian food. Fries were invented in Belgium, so why do we say French fries? The Belgian commanders during WWI spoke French when they made fries and their allied commanders remembered 'French fries' violà! There are so many delectable chocolate shops offering a range of handmade pralines and truffles, with popular brands such as Godiva, neuhaus, leonidas, but I chose 'Mary' because it is not so mass produced and even the locals go here to get chocolates for special occasions.
Just one hour away from Brussels, you can visit the medieval city of Bruges. It is the most popular tourist attraction in Belgium attracting millions of tourists every year, most of whom would take a tourist cruise along the canals. Frozen in time, the city escaped damage during the world wars to emerge as a perfect tourist destination.  I like Bruges because the architecture of the houses is unique and many are built beside the canal. Lace used to be big business here as well as Flemish cloth production was exported to the world. Old ladies can lace many different types of clothing into aesthetic products effortlessly. Since Bruges is in the Flemish region, the people spoke dutch and not French, but most of them understood English as well.
On the way back to Brussels, I stopped by Ghent, a university town which my Belgian friend came from and recommended me to visit. I found it similar to Bruges due to the boats and canals. I could not explore much due to the rain, but the gothic St Baaf's cathedral and twelfth century Het Gravensteen castle were spectacular.
Belgium is like France meets netherlands, but with its own culture and food. The relatively small size of the country makes it easy to explore different cities, all within 1-2 hours away from the capital. This time I only covered the Flemish region but maybe next time I'll be back to discover the Wallonie region.