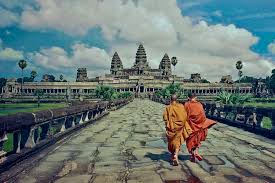 No trip to Cambodia would be complete without visiting the Angkor Wat, a famous UNESCO World Heritage site that draws many tourists everyday. The Angkor Archaeological Park is home to the magnificent Khmer temple ruins of Angkor, including the legendary Angkor Wat, Bayon and dozens of other ancient ruins of the Angkorian-era (9th-13th century) Khmer Empire. The Park encompasses more than 400 square kilometers just outside Siem Reap City in northwestern Cambodia and is a World Heritage Site. 
     The temple ruins of Angkor contained within the Angkor Archaeological Park represent the remnants of the millennium-old Angkorian-era capitals of the ancient Khmer Empire. The Khmer people were and are the dominant ethnic group in Cambodia. The name 'Angkor' refers to the Angkorian-era Khmer Empire that stretched across much of mainland Southeast Asia between the 9th and 15th centuries A.D., and also refers to the capital city of the Empire that was centered north of Siem Reap Cambodia. The Angkor Archaeological Park encompasses the main temple ruins of the Angkorian capitals located in the Siem Reap area. Most of these
temples were constructed between the 9th and 12th century A.D. and represent the pinnacle of ancient Khmer architecture, art and civilization. At its height, the Age of Angkor was a time wealth and power for the Khmer Empire. The capital city at Angkor was populated by more than a million people, Khmer kings constructed vast waterworks and grand temples and the Empire's military, economic and cultural dominance held sway over the area of modern Cambodia, as well as much of Thailand, southern Vietnam and Laos.
sunr

ise at the entrance of Angkor Wat temple complex
posing behind one of the many ancient pillars that has undergone weathering
grand structures that remain standing to

day after so many centuries
with my French companion whom

I met in Phnom Penh and we spontaneously traveled to Siem Reap together
another building made of stone
a staged authentic

ity scene where tourists have to pay in order to take a photo with these Cambodians dressed in traditional costume. It must have been real hot and stuffy for them.
sunset at Ang

kor Wat, one whole day spent here, it was amazing
the famous Angkor Wat temple taken with its reflection in the lake outside
one of the smaller temples inside the comp

ound
C'est la fiction qui permet d'articuler la réalité.