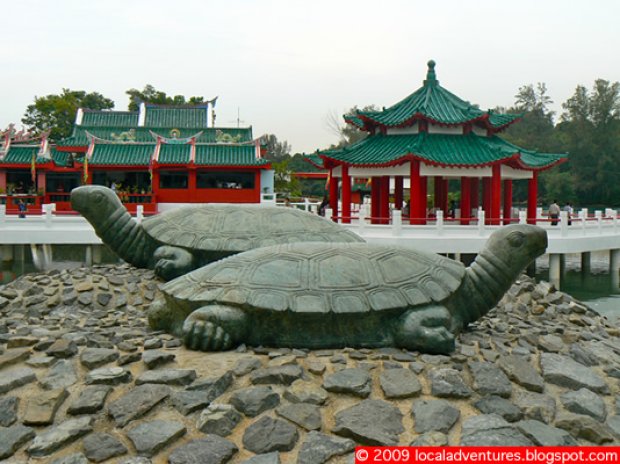 Today was a sunkissed day at Kusu Island, now I am as red as a lobster. me and mh met at 9am at marina bay mrt, I wanted to give her a surprise by bringing her to Kusu island. I had been to the island last year during feb to celebrate Vanessa's birthday. The island is tranquil and scenic, with a small beach and I thought since it was a weekday and not the praying season, it would not be that crowded. The sbs bus 402 from marina bay mrt took quite some time to come, around 20 minutes, luckily I allocated enough time so that we can catch the 10am ferry. During weekdays there are only 2 daily ferries to kusu island departing from marina south pier i.e. 10am and 2pm
The ferry has changed, it is now airconditioned and larger, thus it can accommodate more people. This morning there were about 20 people on board with us. The ferry first stopped at St John's island, where half of the passengers on board disembarked with their huge trolley luggages and fishing gear, I think they rented a bungalow or chalet on the island. We had 15 minutes to explore the island before the ferry left for kusu island. We took some pictures, this island used to be a quarantine area for immigrants down with cholera before they reached Singapore mainland. It closed down when singapore tightened its laws on immigration. Now the island is a paradise for holiday makers who can stay in the chalet. There were many cats lazing around the area and a rooster who strutted away very fast as we approached it to take a photo. It was cock-a-doodling like nobody's business, waking everyone up if they're not awake and disturbing the peacefulness of the island.
The ferry left at 1045am and we proceeded to kusu island, the island named after mh's mum. It is much smaller than st john island and there is a chinese temple. The history of this island is that there were many tortoises and people came here to pray during the ninth lunar month. We walked around the island, exploring the temple, seeing a dog who can't stop barking at us and a tortoise sanctuary. There were many tortoises in the pond, some big some small, they immediately crawled out of the water towards us when we approached, seemingly not afraid of us and stretching their necks out of their shells, they probably want to get out food. Some of the bigger tortoises even climbed over the smaller ones just to get nearer to us quickly, signs of bullying even in animals.

We spread our picnic mat on the beach and started to laze under the sun. We applied some tanning lotion on our front and just relaxed with our shades on, listening to the calming effect of the waves crashing against the shore and the coconut trees swaying in the breeze. We went for a dip in the water about one hour later as the weather was too hot and we were sweating despite being bare-bodied.
Lunch was a simple affair of peng kueh, soon kueh, vegetarian bee hoon, coconut pancake and bread which I had brought. Picnic at our own private beach with no one to disturb us, except for a group of China tourists who visited the island for a short 15 minutes and they took pictures along the beach while we were just sunbathing there. After lunch we turned over to suntan our backs, and we forgot to apply the suntanning oil which contains sunblock effect. It was a costly mistake as at the end of the day, our backs were super sunburnt and it was quite painful.
We left the island at 4pm which is the last ferry of the day. There were toilets to wash up, except that we both forgot to bring soap and towel :/ It was indeed a relaxing day at kusu island with my lovely, it was like a beach getaway, just that it is much cheaper and we could see mainland singapore in the distance, so we won't feel homesick at all. Kusu island is a highly recommended place to go if you just want to get away from the hustle and bustle of singapore, yet be near to home and have a relaxing day at the beach.
Le cinéma est pour moi un art tridimensionnel. Avec ma caméra, j'ai le sentiment de sculpter l'espace.