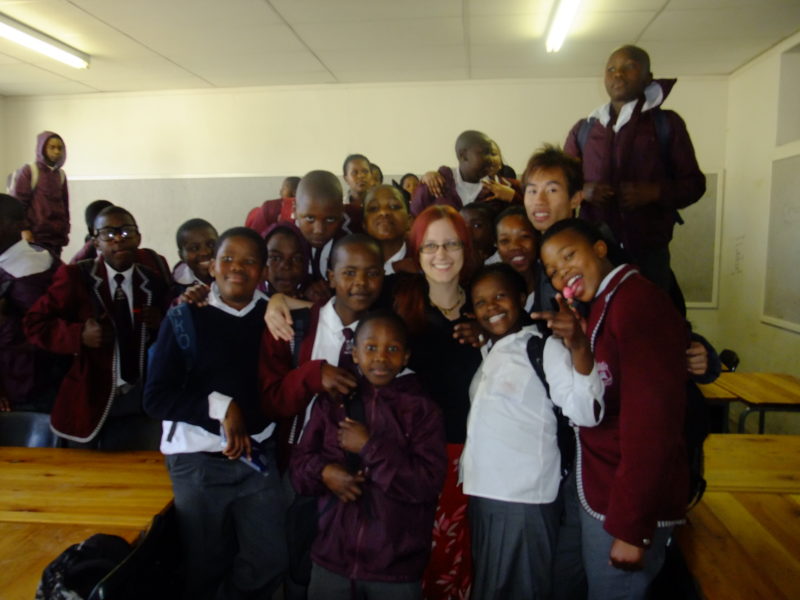 From 14 July to 3 August, a group of 5 NUS students including me went on a voluntary trip to Stellenbosch, South Africa. We spent three weeks there, teaching grade 8-10 Mathematics at a township school, Kayamandi High School. It was our first time on the African continent and we were very excited about it.
My expectations were not high at first as I thought South Africa was a third world country with a high crime rate. I imagined teaching the students in the open and how they would share tables and chairs, with only one textbook shared among the whole class. However, I was so wrong when I went there to teach and found out that the students wore nice school uniforms, had free textbooks distributed to them and there were proper classrooms.
The students may come from a poor family background and do not have luxury or technological gadgets in the world, but their thirst for knowledge is amazing and they never hesitate to clarify if they did not understand the lesson. The children may not be fast learners, but they possess the positive attitude towards learning and this makes it a joy to teach them. They were delighted and participated actively when we introduced games and interactive activities during their lessons.
I noticed the stark contrast between the township and private schools in Stellenbosch. It is saddening that the learners in a township school do not have as many opportunities to stretch their minds compared to the private schools, but inspiration from the teachers can transform attitudes towards learning. I am also glad that initiatives between Stellenbosch University and the township schools have made it easier for the students to learn more about higher education, so that they will be inspired to study hard and make it to university.
Besides the learners, we also had a great time working alongside the local teachers. They learnt innovative teaching methods from us while we learnt classroom discipline skills from them. English was the medium of instruction in the school, so there were no communication problems. However, the students are more familiar in their mother tongue and sometimes the teacher has to explain using their language such that they can comprehend better.
At the end of three weeks, I noticed an improvement in their mathematics grades and they were able to understand lengthy word problems that often appear in their matriculation exams more easily. It is heartwarming to know that we have created an impact on the lives of the learners as seen on the last day of school when their class representative gave a farewell speech and decorated the whiteboard with emotional parting messages. They even gave us a token sum of money so that we could use it to buy some African souvenirs that will leave us with indelible memories.
Poverty can never be eradicated, but through educating the African students, I hope that they understand the importance of education and how it can better their lives.